John JD DeServio, bass player of Black Label Society and also co-producer of their last album, founding member of Cycle Of Pain, devil on the stage, extraordinary musician and New York Rangers fan. We caught him on first half of Black Label Society´s european tour and asked him som usual and unusual questions. As it happens, musicians do not have much time so JD´s answers are quite quick…
Welcome to Europe! First concerts already played, how do you like it here so far?
We´re havin a blast here!!
If we divided the world into America and Europe, what kind of differences do you see in your fans ?
They´re both awesome!!! Our fans are amazing all over the world!!
The European fans would surely be glad to know JD from a different musical view. Are you planning any jam sessions for example? How do you see the European tour of Cycle of Pain?
I do bass clinics when im on the road. Maybe some people can check them out. i´d love to get COP over here fo sho.
Which song do you enjoy the most on stage?
Stillborn. We jam in the beginning of it.
Many people agree, that the current configuration of BLS is one of the strongest. From the creation you have gone through several personal changes. Do you think this configuration could remain permanent?
I hope so!! The band is killin it!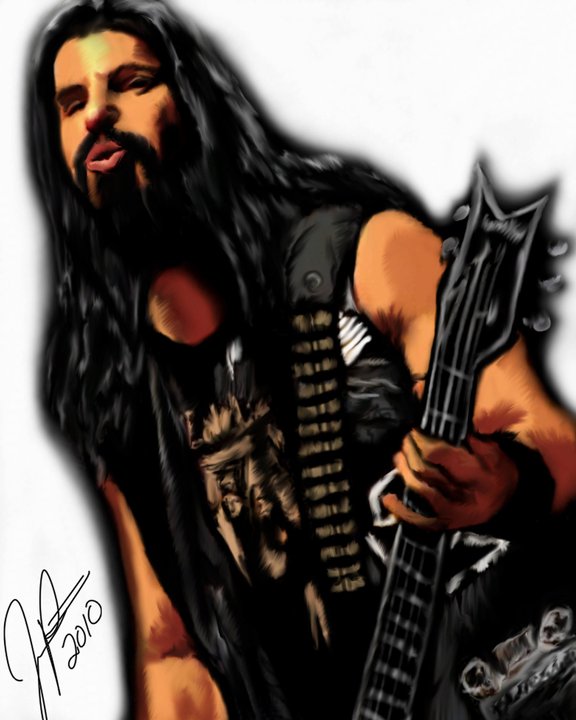 Some well-known figures appeared in the position of BLS bass player, Robert Trujillo, James LoMenzo, Mike Inez. What do you think about them as musicians? What about their style of playing, their contribution to the band?
Theyre all great musicians and great friends of mine. They all bring something different.

Let´s get back to you. You surely have some t-shirts of other musicians. Is any of them so precious to you, that you sleep in it, or wear it for several weeks?
Look at my Randy shirt i wear on stage every night.
I have noticed, that your singnature bass took a root in a well-known Swiss folk-metal band Eluveitie, Kay Brem uses it. Do you know about that, have you already met that musician?
No i haven´t!!! You´ll have to enlighten me on them.

Your instrument looks very stylish among the mediaval ones. Have you ever thought of trying any unconventional instrument? Hurdy-gurdy for instance, that photo would be worth it…
Not really!!
Have you already tasted any of the traditional European meals? Is there any you would never eat again?
Blood pudding.

Try to describe your ordinary day, if you´re not on tour or in the studio…
Wake up, eat, drink and smoke!!!
We know that when you were young you were inspired be heavymetal bands of the 80´s. Those were quite turbulent times, where televisions were thrown out of the windows. Times have changed, you are good boys. However, there has to be some funny story from the recent times. How do you spend your time between concerts?
Travelin kicks your ass bro. We just chill anymore.
You have already had plenty of interviews. Is there any question you would like to answer, but you´ve never been asked?
You just asked it!! (laughter)
Author: Ľuboš Okruhlica
Drawing: James Pate
Šéfredaktor portálu Valhalla.sk